Austria - Still




Day 8 Vienna - Zwentendorf, New Friends Made 56 KmAverage 16 k Cum Kms 490
We headed out of Vienna and after a bit of navigation found the bike path and stayed with it.
We had some good advice to exit and take the north bank which took us through a nature reserve again.



The path had lots of riders, roller bladers, runners and walkers and in the warmth it was great to see so many paople getting out and enjoying the path.

We had some lunch in Tuln and rode into Zwentendorf where the captain was able to convince the stoker to try a Zimmer for the night.
We knocked on the door and the lady came out and said she had a room a gave us a fair price 40 Euro including breakfast.
The room was nice and there was a lovely bathroom (Stokers absolute minimum requirement) There were 3 men drinking beer on our common verandah and one of them took me down a ramp to a sort of den with a large refrigerator and showed me how to fill in the honour book to record how many bottles of beer,wine or mineral water we took. gret simple system based on trust!
We went to the local Pub for some dinner and returned to our Zimmer. We had a drink with the 3 guys who were on their annual ride from Passua to Veinna (to get away from their wives) and put together a conversation with bits of German and English. As the evening went on we became great friends and this will remain one of our most memorable nights. We learnt thst Rudolf is a Violinist with the Vienna Symphony but most importantly they were great friends and it was lovely.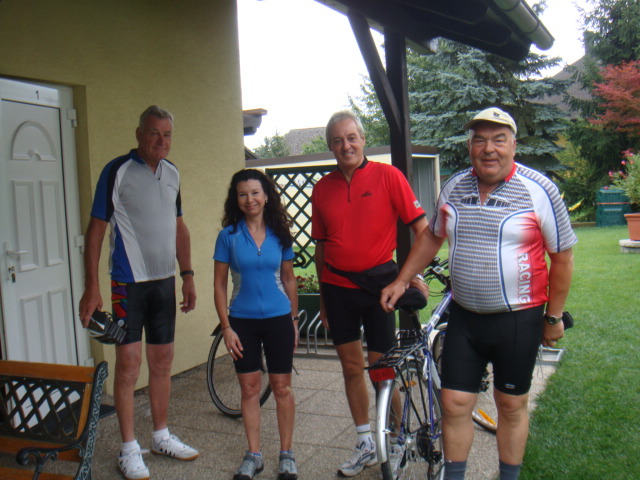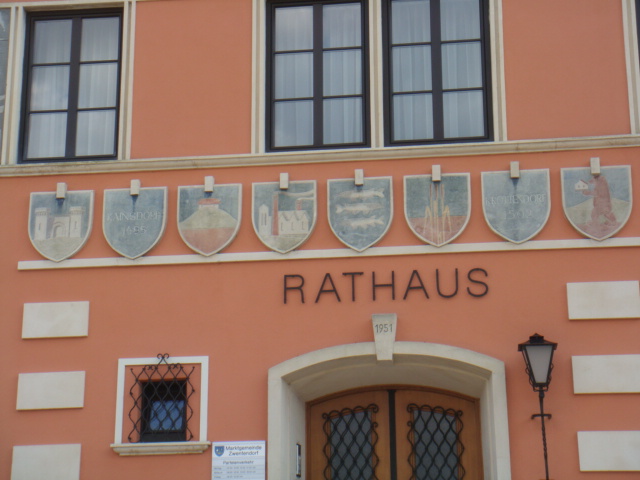 Hilary loved tthe Shields on the Town Hall (Rathaus - there are no rats) - at Zwentendorf so here's the pic.

I liked the massive bronze sculpture at Tuln, viewed from the river or the town it was really imposing



Day 9 Zwentedorf to Persenbeug The Pearls of the Donauradweg. 97km Ave 19 kph, 587 Cum

Inspired by our friends from last night we set off with some good ideas on the course.
Rudolf told us to take the right side of the river through the Wachau wine region.
The course was magnificent. Little towns where all the houses were 500 years old at least.
A snack from the backpack at Krems and then came Durnstein.
Hilary dismounted and had to walk it.

Durnstein is another walled and gated city - the pictures can't capture it all- you'll just have to come see .



The narrow streets were filled with people all enjoying the treasures around each corner.

We rode on and after a while you started to take things for granted because there was so much later in the day we
felt like another snack and at St Michael there was a bench next to a wall built in 830.
We read what we could of the timeline for the wall, written of course, in German.



Four years ago Daniel and I stayed at Hagsdorf and I dropped in to see if the room was available - it was one of the best we had stayed in-
I said hello to Frau Leeb and she remembered us but unfortunately she was full, so we went to the next town 6k or so and stayed at Persenbeug.

Day 10 Saturday 1 August Persenbeug - Abwinden 76 k, 17 kph, 663 cum

Continued along the Donau Radweg. So many cyclists following the path is a no brainer.
When in doubt, wait a minute and a few bikes will come along.
Today we heard a bunch of cyclists with Aussie accents. A tour group with no luggage accept the lunch boxes they were given.
More interesting was the couple we met from Tweed Heads about 9 months into a 12 month tour.
We chatted for a while about all manner of things and each learnt a few tricks from the other.

We stopped at Grein at the same ice cream place that Daniel and I had stopped at to listen to a live band.
This time we went to a bike shop and bought a gel seat cover.

Last time I rode through here I went past Mathousen, the site of one of the WWII concentration camps.
I regretted not taking a tour and so with the temperature at around 35c we did the 14 percent climb.

The camp was a morbid place and from what I have read, i know what a tragic death camp this place is.
After a while I started to feel that the place had been sanitised. It all looked so clean and fresh.
There were marble plaques all down one side of the main wall. Probably a hundred.
Most in German so I couldnt really read them but i could see the gist of what they were about.
There was not a Star of David on any of them. it was like no Jews had died here. There was a plaque
for Americans that had rescued the inmates, one for Turks, Gays, Chinese, Children, etc.

I will need to read more and may talk to Marcia Jano to see if she can shed light on this.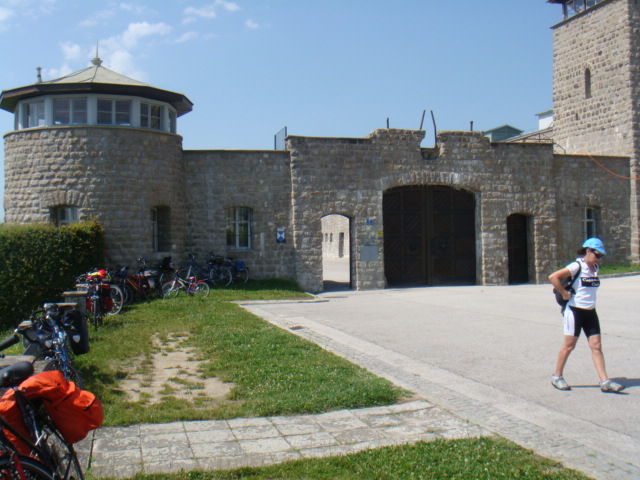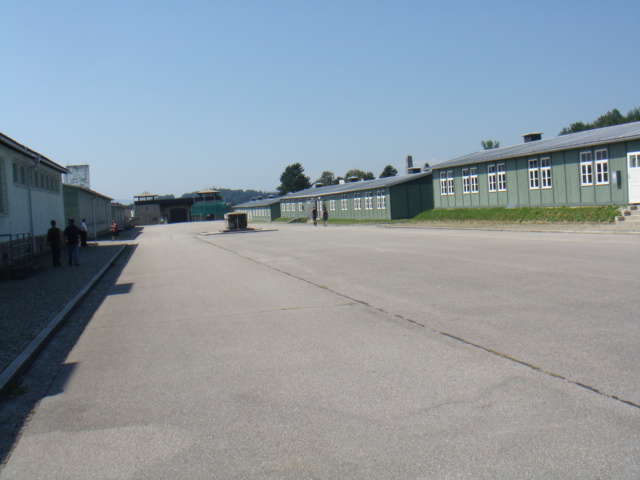 The city itself was lovely and we rode on to get a bed just short of Linz at a small place called Abwinden.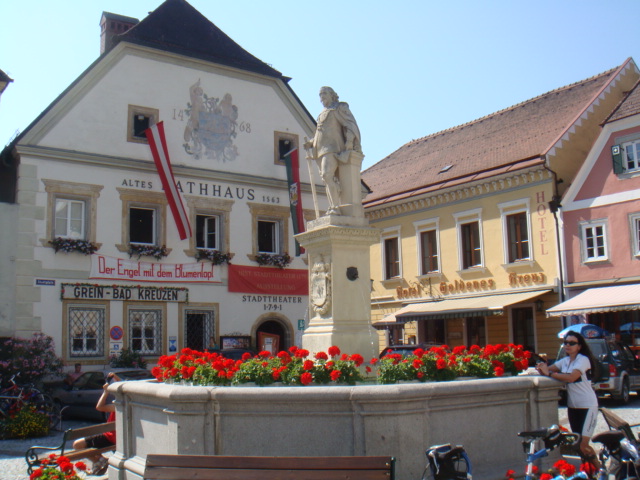 Day 11 Sunday Aug 2, Abinder - Rostorf, Cant win them all -86 Km (60 intentional) Cum 749

We rode into Linz in what seemed like minutes.
Stoppped at the tourist information office and got a bike route map to Salzburg.
We were leaving the Danube!
Seemed easy enough. We are now following another river, the Traun.
So we look for the signs that say Traunradweg 4.
We passed through the town of traun and had a meal in Wels.
Hilary would have liked to stop there but we had done less than 50k ad i thought we could get a few more ks in.
There were lots more towns on the map and it was early.
Lambach was next and we went into the first Gasthof we saw - no rooms.
The next was closed because the owner decided to go on holidays and at
the next we were met in the driveway by a lady on crutches who explained in rapid German
that there were no rooms in Lambach but it was only 9km to Schwanenstadt and there were lots there.

I understood but did not mention to Hilary that she had spoken about a storm probably not hitting us as it was mainly on the mountain.
We rode off with determination whats 9 km? We were on the main road with trucks and stuff and the thunder and lightening started.
Then came the rain. It was only 5.30 but it was dark.
We got into town and the first 3 hotels were closed.
We went into pubs and although people tried to be helpful they knew of no rooms.
It was getting colder, darker and wetter.




The next town was not an option so I rang the doorbell at the police station and asked for Komisar Rex (Hilary's favorite TV Show)
I was brought upstairs and in my best German explained that the situation and appologised for my poor language.
They said I did OK and started ringing hotels.
They had all the holels on speed dials of their phone system. A particularly strong zap of lightening and it all went dark.
The power eventually came back. They found a room. It was 2 towns away but only 6 k and the friendly policeman
said 'das ist schlecht' appologetically but I thanked him and went downstairs to Hilary minding the bike and told her we would be OK.

We rode on to one of the nicest places.
It was in the middle of know where - really off the beaten track but full of people having dinner.
They gave us their best room, fed us, looked after us and said nothing about money.
Maybe it helps to have the police do your bookings?

We learnt an important lesson - get in early on Sunday.


The family Rensch sent us off the next morning with a new faith in good people.

Day 12 Rostorf to Unterach 51 Km, Cum 800 Polar no longer works so no climb details!

We followed the Traun River to Vocklabruck and then turned south to Schorfling and stopped for some coffee and cake.
The standard of coffee is steadily getting better and we can go in anywhere knowing we willl get a good cuppa.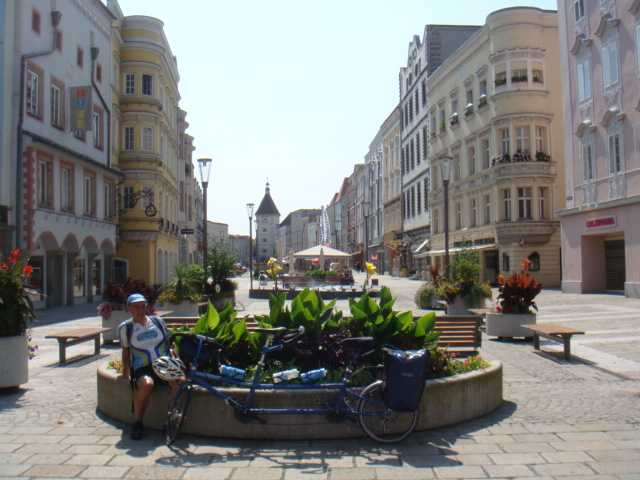 We now come to another of Austria's premium touring and holidaying areas.
Once past Schorfling, we are on the banks of Lake Attersee.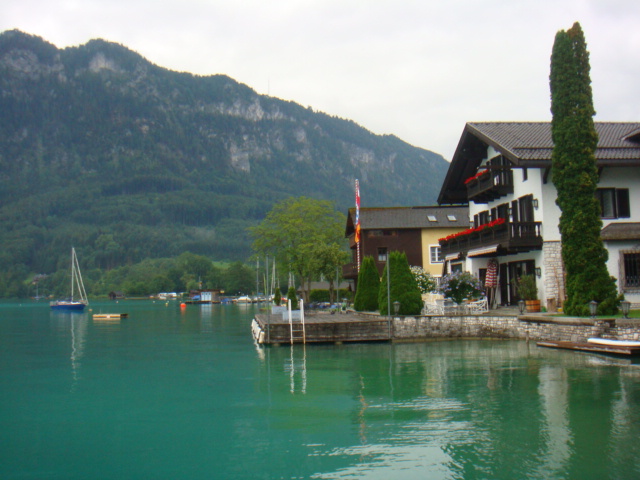 Cold clear water with mountains on one side and green everywhere.
The rain returned near the end of the day and we had done the length of the lake so we stopped at Unterach at a friendly Zimmer.

Day 13 Tuesday August 4 Unterach - Ort 6.5 Km Lets call it a rest day. Cum 806

It rained all night and though I convince Hilary that with the right gear it would be OK,
I think I needed a better lawyer. We started asking for rooms almost immedeately and at one point
I came up along a Gasthof and without getting off the bike asked if they had rooms through the window.

There was a young man tidying up, he phoned the boss on his mobile and I made the booking through the window on
this young man's mobile.




The 6 Km did get us to the next lake so we stayed on lake Mondsee and sat at the window watching the waterfalls that had formed on the mountains across the lake.
That night all the town came to our pub to watch Salzburg play Zagreb in the socceer, our host Paul Ruhdorfer put on a feast of traditional Austrian food for everyone at half time and we joined in celebrating Salzburg's 2-1 win.

Day 14 Wednesday Ort To Salzberg
Because of the lost riding time from the last few days we rode briskly into salzberg in the morning.
Our Camera, which as been playing up since Matthousen decided to give up on us so we may miss a few shots now.
We had a look around Salzburg and then went to the station to see how the Austrian rail system deals with tandems.

Surprisingly well!

It was easy once the ticket lady took off the price for the second bike when she assumed we had two (she saw 2 people with helmets)

Later that day we were in Innsbruck with time to book into a hotel and see the sights.




The light isnt great but this is the famous Golden Building from the 13th Century
What struck us about Innsbruck was, even though its is an extemely impressive 800 year old city with fascinating buildings and history, the imposing mountains that surround the city, dominate the feel of the city.




Comments Week 2


This week found us in a better routine for riding each day.
We also have more energy at the end of each day to go out sight seeing once settled in a town.
We learnt that all the good gear and Wolf°s trick of oiling the legs on rainy days works - but its no fun.
So we have watched the weather reports, spoken to the locals - they know better - and miss out on the shiny legs.